The Internet is a vast and fleeting resource. As I often say, "the Internet never forgets." That is, until it does.
If you're just here for the plain-text archive of "GTD with Wunderlist – Part I," click here! Otherwise, read on for the story.
As I keep mentioning in my ad-hoc WL + GTD series, I love the Getting Things Done productivity methodology (GTD) and Wunderlist (WL). I think Wunderlist is a great tool for GTD. With very few up-to-date resources, I built a GTD implementation in Wunderlist that works for me. I hear praise for GTD all the time and for various apps to use for GTD, but no one ever mentioned WL. I couldn't be the only one. On a whim, I searched the Wunderlist Support Center to see if there were other aficionados hiding in a space not indexed by Google.
Lo and behold, I found my people! So many of the other threads are full of angry Internet personas (nothing makes people complain quite like not getting as much free stuff as they want), but we were actually cordial.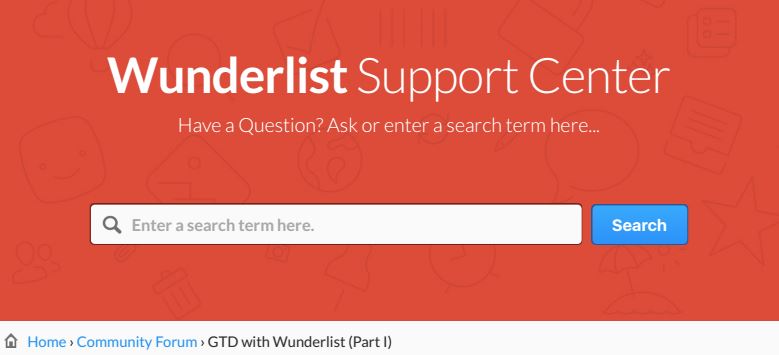 Sadly, we had such a long and lively discussion that we discovered the Community Forum's technical limits the hard way. After we had contributed the maximum 100 posts to our thread, I found myself mysteriously unable to post to it. The posts aren't numbered, so there was no real way we could even know how many we'd made. I had to contact WL Support myself to find out there was a limit in the first place. There were no other references to that limit, so that was an unpleasant surprise.
I was, however, encouraged when a Support staffer created a new thread and added a (non-clickable, as usual) link to the old one in its first post. Hooray! Problem solved.
Until it wasn't. After "a period of inactivity," the thread was automatically deleted and unrecoverable. It only went inactive because we reached a limit we hadn't even known about! That was extremely upsetting. After WL's three-day sync debacle, I started seriously considering changing apps.
Happily, our original poster, Youssef E.B., saved us! Like a good GTD-er (and a good Internet researcher, really), he kept a PDF of the entire thread for Part I. He sent it to me, I extracted the text, and I am posting it here at Lindsay Loves.
Click here for the archived, plain-text version of the Wunderlist Community Forum thread "GTD with Wunderlist – Part I."
I have the original PDF, but the file is too huge for me to host publicly. The Support Center only allows plain-text posts anyway, so that plain-text version is as close to mint as possible. The text is completely unedited. I copied, pasted, removed the upvote/downvote text, and did nothing else.
If you're interested in Wunderlist and GTD, come join us on the Part II thread. Update 5/22/18: The Part II thread is no longer available. No registration required. Also feel free to leave comments here or use my contact form; I'm just an ordinary user, but I do like to help people. Enjoy!