In case you missed the news yesterday, I moved to Kentucky! Life in Louisville is still taking some adjusting, but one constant is that I'm still dressing up for church on Sundays. I'm even getting Mr. Man on board… kind of.
March 26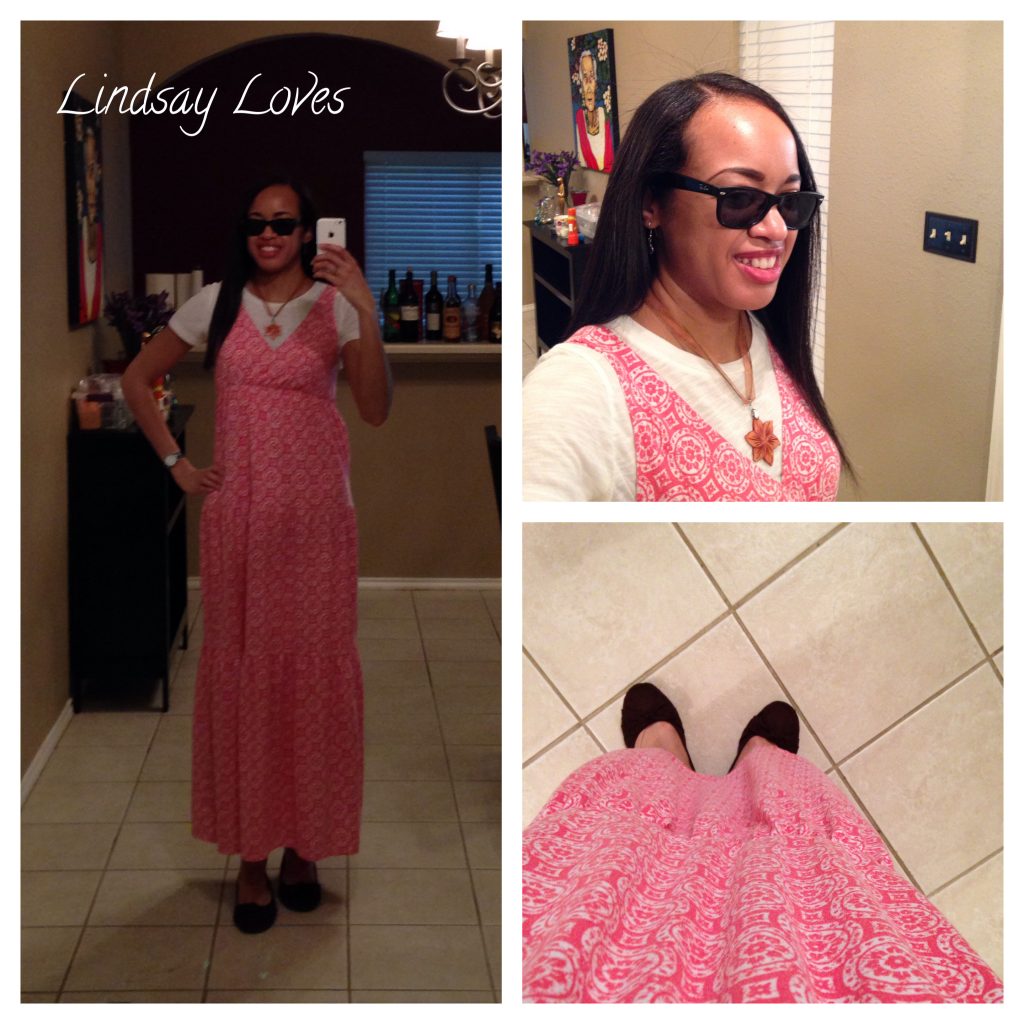 Dress and shirt: Target
Earrings: craft fair
Necklace: gift
Shoes: Payless
Sunglasses: Ray-Ban
My last summery Sunday in Austin featured a dress I dragged out from my "out of season" bin for the occasion. On Gaudete Sunday, we wear pink. Or coral. (I'm pretty sure Mr. Man did not wear pink.)
Deacon G (I think) gave a mostly unhelpful summary of the Gospel. As one of the snarky Catholics I follow on Twitter noted, "Year A" is also translated as "Year of the Really Long Gospels." We had just heard the whole thing! We didn't need to hear all the details again. A quick version might have been nice, but trust me, it was not quick.
Despite the unnecessary and unnecessarily long recap, our deacon did go on to say that the Gospel showed the journey of the man born blind from not knowing Jesus to "a confirmed faith in him." It turns out that this deacon is from Maryland, like me; he told a story about seeing a blind woman being escorted into the courtyard at the National Shrine of St. Elizabeth Ann Seton in Emmitsburg on a very sunny day. The deacon noticed the sunshine because he could see it, but the blind woman didn't notice the sunny day until she could feel it. She knew the shining beauty she was missing. Unlike her, the Pharisees didn't notice the Son of God at all because they didn't know what they were missing.
Our closing hymn was "O God, Beyond All Praising," which is my very favorite. It was a nice little goodbye from the parish with the best music of any I've belonged to.
April 2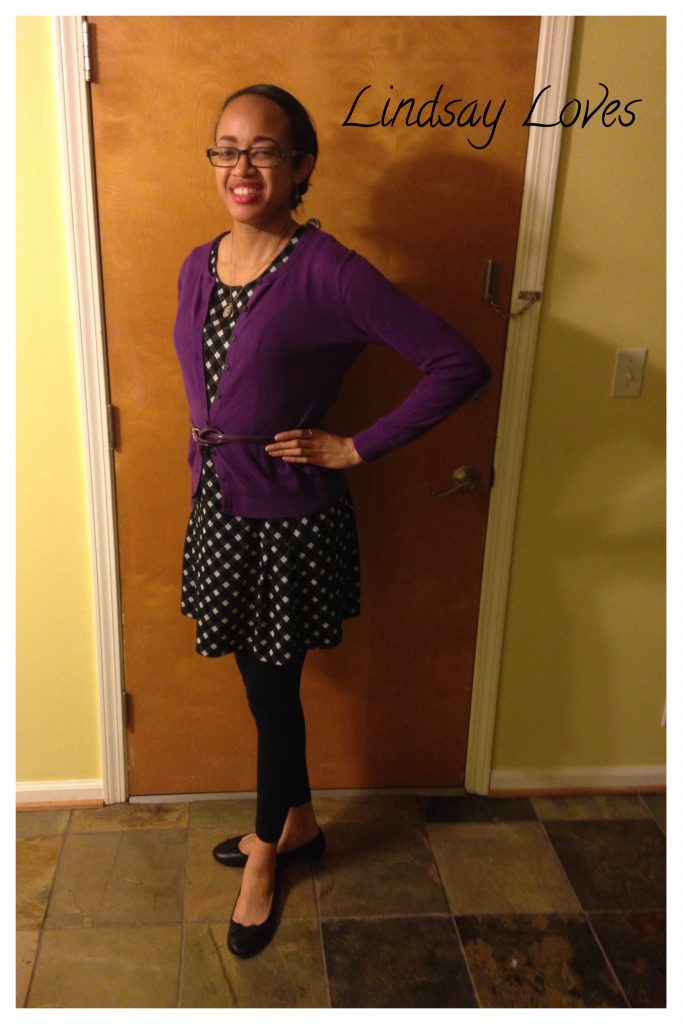 Dress, leggings, and belt: Target
Sweater and shoes: Old Navy
Earrings you can barely see: craft fair
Necklace you can barely see: holy medals
I picked this outfit because it packs well. I was technically moved in before we went to Mass on Sunday, but I'd predicted that I would be unable to choose an appropriate outfit in my post-move exhaustion, unwilling to do so, or both. I was mostly correct. The sweater was a little wrinkly, but fine. I did pull the belt out of my dresser drawer, so I guess it was part pre-packed outfit, part day-of outfit, and all awesome outfit.
We went to Mass at a parish other than Mr. Man's usual one. I am so glad to still be living in a city where multiple parishes and multiple Mass times are an option. I don't know how rural Catholics do it! I also took my homily notebook again. The people at that parish don't know me from Adam, so for all they know, everyone in Austin takes notes during the homily.
Fr. C said that a long Gospel should get a short homily, which I guess makes sense. Then he proceeded to tell that maudlin "Footprints" story about Jesus carrying us in the toughest times of our lives. It has a good message, but I could have heard that story anywhere. And I was distracted by my memory of an irreverent "Footprints" parody, so that didn't help. But Fr. C also told us to be Christ to each other and not to lose our faith in times of trial. Those were good lessons with zero schmaltz.
He also sang kind of a lot. After Communion, he burst into a beautiful a cappella rendition of "You Raise Me Up." It didn't sit quite right with me after "Footprints"; I wanted more Catholicity than generic Christianity. My disquiet was assuaged when he chanted the Salve Regina while recessing at the end of Mass. Chant is very Catholic, and a cappella is definitely in the spirit of Lent. That helped.
April 9
Top: Target
Skirt: Marshalls
Shoes: Payless
Necklace: My Daily Grace at Etsy
Earrings you probably can't see: ancient gift
My outfit is definitely a repeat from a previous liturgically-red day. I would like you to know that Mr. Man chose to wear his outfit of his own free wil, and he asked me to remind him both that he should wear that outfit and that it was his idea. I just like it when he wears a tie.
Sadly, I forgot my homily notebook, so I had to take notes the old-fashioned away: on my phone, after Mass. We were back at Mr. Man's parish, and I appreciated that the priest did not even try to apologize for the long Gospel. It only happens once a year; we can take it. Usually. Like a rookie, I thought my wedges would be fine for the long period of standing. They were not fine, but I had some suffering to offer up, so it evens out.
In the homily, Fr. Something-I-Can't-Remember started by highlighting that the Gospel features two very different processions (to Jerusalem and to Calvary) under different circumstances (the beginning and the near-end of Christ's passion) and to very different responses (cheers and jeers, basically). He also mentioned that this story reminds us that God is with us in our suffering, not just in our joys.
That last part stuck with me. Call me crazy, but I feel like we are more inclined to feel that God is with us (or to ask him to be with us) precisely when we are suffering. It's much, much easier to forget that he's with us when we're joyful and things are going our way. How often do we thank God for a great day just because it's great—not because we needed a win? How often do we pray for blessings on someone for their birthday—not just their day of death? I struggle with remembering to invite God to be part of the happy times in my life. Do you?
---
For more Mass fashion and commentary, visit Rosie at A Blog for My Mom for My Sunday Best.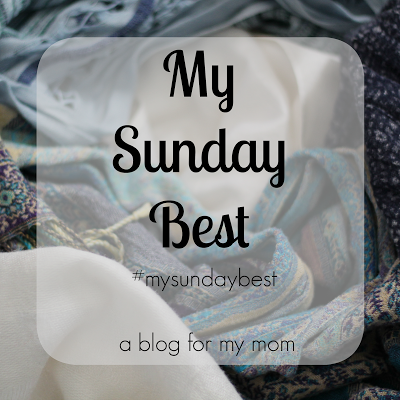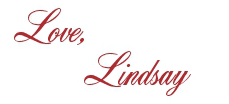 I bet you'll love these posts, too!