Once again, I adjusted my Mass schedule to accommodate Mr. Man's schedule. It just so happened that, this time, we picked my favorite variation.
Here's what I wore: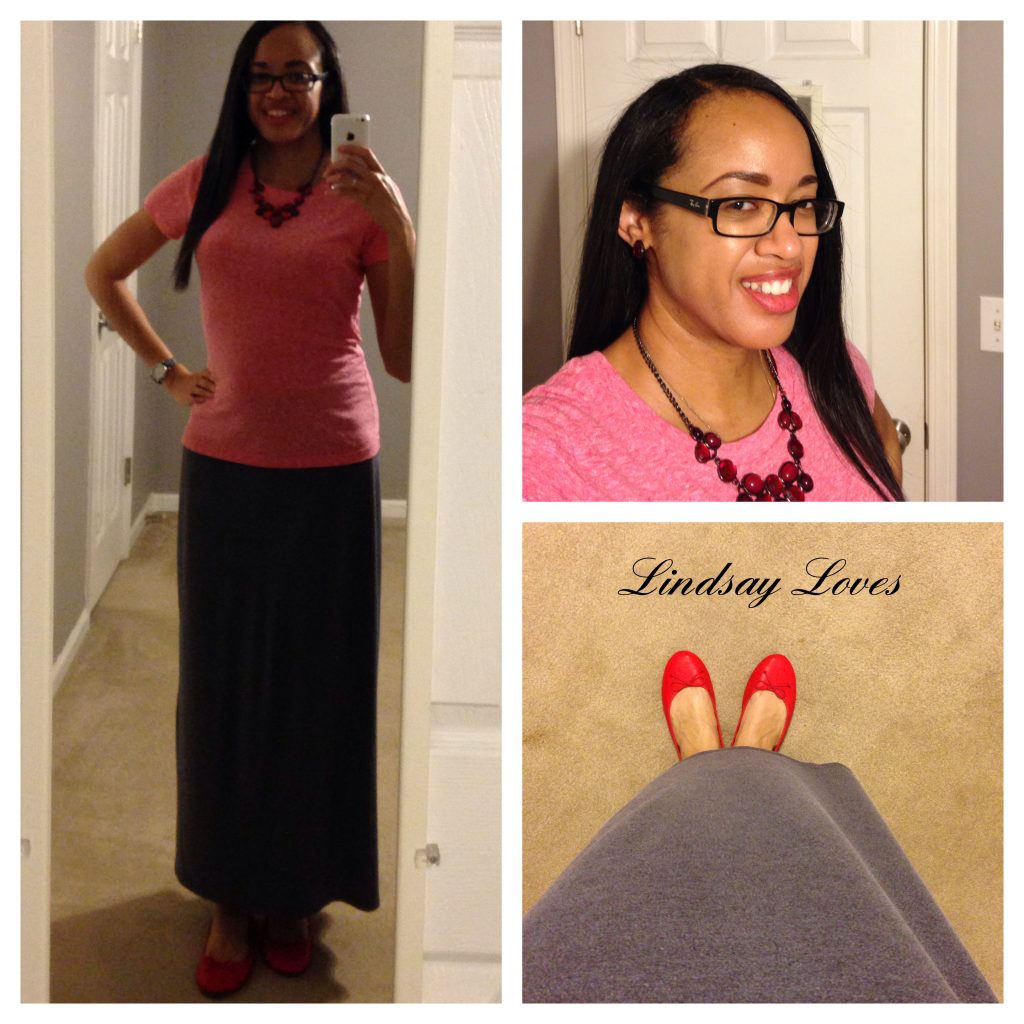 Shirt: Target
Skirt: Old Navy
Necklace and earrings: Charming Charlie
Shoes: Old Navy
This is a nice transitional outfit. I was dressed for church for a while before we actually went there; this outfit is comfortable enough to wear for long stretches.
We returned to last week's parish. I try very, very hard not to prefer parishes for just one reason: geographical proximity, quality of preaching (by my own undoubtedly flawed standards for something so inherently difficult), musical style, apparent age of the population, ornateness of the church building, etc. But I like this one for a lot of reasons, so we might have a winner in my reluctant parish shopping trip.
Fr. J opted to chant, in English, almost all the parts of the Mass that can be chanted. I like chanting; Mr. Man does not. I'll give him credit for disliking chant just because he does and not because he doesn't know how. No one's born learning how to chant, so that's not a valid excuse. You put in the hard work to learn how to read, write, and drive, so you can learn to chant, too. If you don't like it, though, I can get behind that.
His homily focused on seeing the Ascension not as an increase in the distance between us and Jesus, but as a decrease. I've been reading a couple of Easter season daily reflection books, and they both have the annoying habit of trying to put words in my mouth. I get what they're going for by writing a prayer with first-person singular pronouns. It rankles me, though, to have "I have been so selfish" laid out there for me to pray. What if I haven't been particularly selfish? Am I supposed to skim the page first, before I pray, to figure out what these authors are going to tell me I've been up to? I don't see why they couldn't use "we" instead and at least put some distance in there.
Fr. J, on the other hand, suggested that we parishioners might have an inaccurate mental image of what the Ascension means, and if I'm being honest, it was pretty accurate for me. Jesus' being present in heaven post-ascension is not like the priest's sitting in the sanctuary or the Eucharist's storage in the tabernacle. He's up there; we're out here; he left us: nope. On the contrary, he described, God the Father is more like the church building as a whole, and by ascending, Jesus has opened the door so that we can walk inside and be so intimately united with him and the Father that we can't even quite grasp it.
He offered a few examples from Scripture, too. When the storm rises up around the apostles' boat on the Sea of Galilee, Jesus is up on a mountain praying to the Father (Mark 6:45–8). From his high vantage point, physically and spiritually, Jesus is able to join them instantly by walking across the water towards the boat. He was separated from them, but because he had been "far away," he was able to save them.
Similarly, when Mary Magdalene sees the risen Jesus outside the tomb on Easter morning, he tells her that his mission is not over because he hasn't ascended (John 20:11–7). Holding on to him at that moment is a waste of time because he will be more accessible after he ascends to the Father.
It was a pretty sweet homily. Even Mr. Man Who Does Not Like Chant agreed with that.
---
For more Mass fashion and commentary, visit Rosie at A Blog for My Mom for My Sunday Best.