Strictly speaking, it's been Ordinary Time for a few weeks. We always follow Easter with some more solemnities, though, so it doesn't feel like Ordinary Time. I guess it does if you go to Mass on weekdays, too, but I am not in a daily Mass season at the moment, so it doesn't feel quite ordinary yet. (Yes, I know the real reason we call the weeks "ordinary," but still.)
What does feel unfortunately ordinary (the normal kind) is that I was wrapped up in many things for the last few weeks, and none of them were blogging, so here are two weeks of what I wore Sunday.
June 10: Trinity Sunday (Vigil)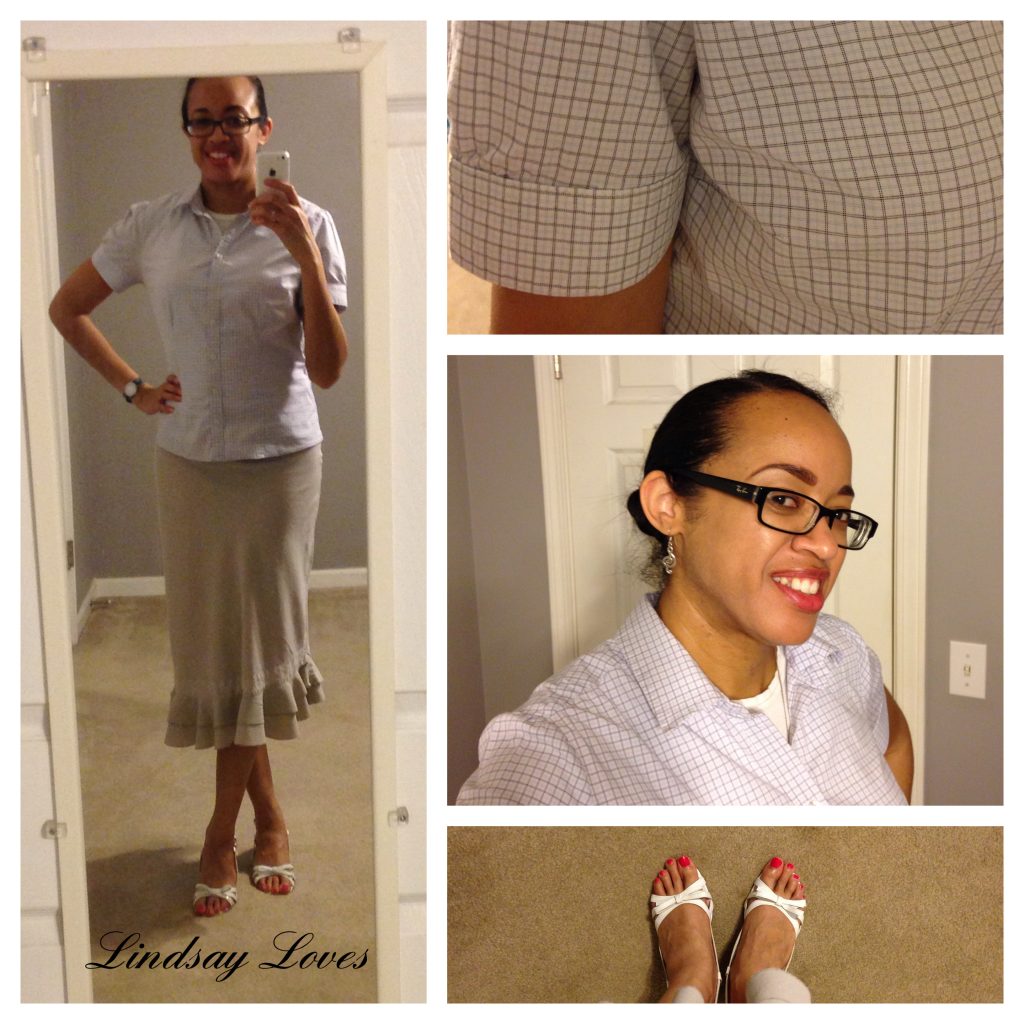 Blouse: Target
Skirt: random mall store
Shoes: Payless
Earrings: gift
Again, I wanted to show off my toes. Again, Mr. Man was frustrated by how slowly I walk in these shoes. I'm pretty sure that's a man thing, though. Men's shoes are always practical, so they never require a different walk. The most they need are comfort insoles. This blouse is what I typically wear for interviews. I like that it's structured, and although I usually wear it with a skirt, it works with pants, too. And it doesn't need to be tucked in!
Although Trinity Sunday and Corpus Christi are special solemnities, they are not "continuations of the Easter season," as the deacon at Mass said. I was quickly appeased by his quite excellent homily about the Trinity. Yes, blah blah mystery, blah blah can't understand it, but, as our deacon also said, acknowledging the mysterious reality of the Trinity doesn't mean we can't talk about it at all.
The Trinity, he said, is not so much a thing as a relationship. In the first reading, God shares his name with Moses. Giving your name is usually the beginning of a relationship, right? Similarly, the Gospel highlights that God gave his son—in relationship, not just sending him off and recalling him just as brusquely.
As Christians, we all have a relationship with the relationship of the Trinity. It begins when we are baptized in the name of the Trinity, it is strengthened by the trinitarian blessing at Mass, and we encourage it daily when we pray under the Sign of the Cross. Not bad for a mystery.
June 18: Corpus Christi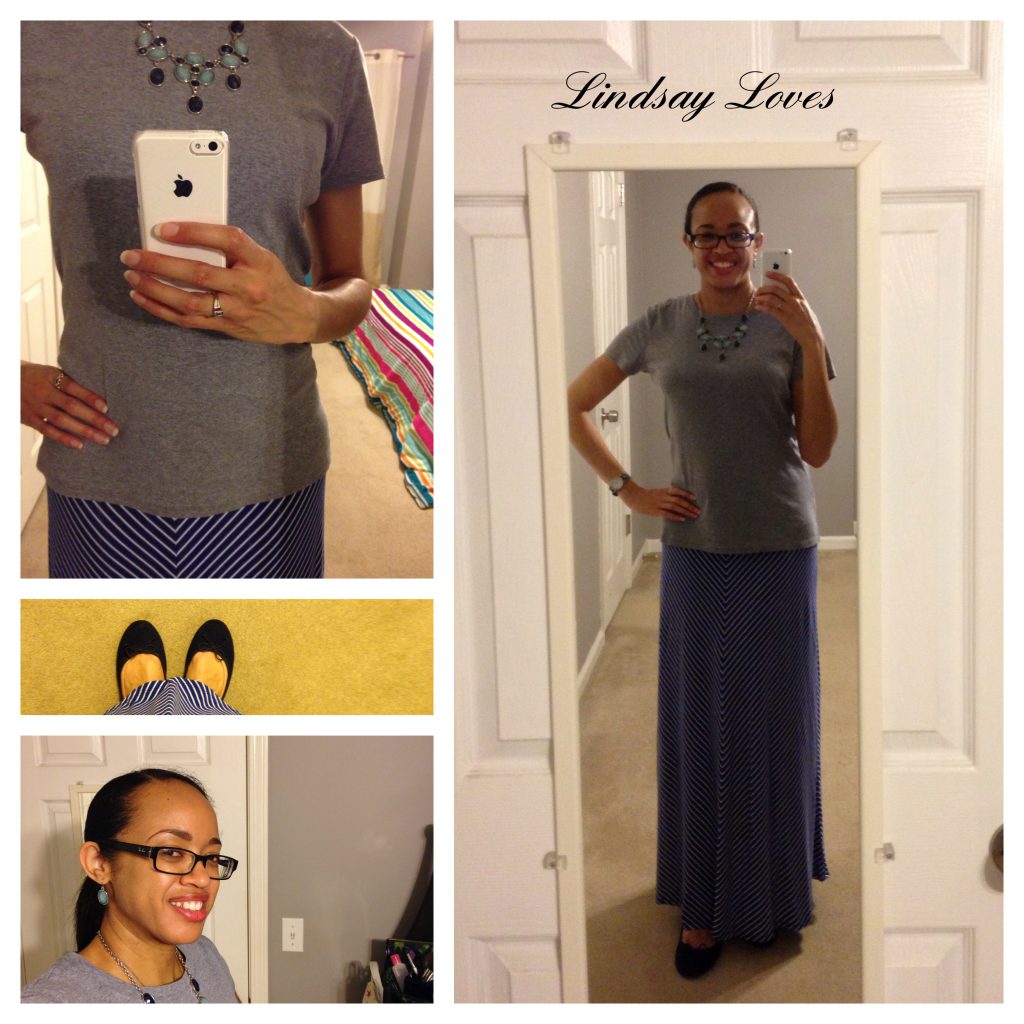 Shirt: Target
Skirt: Target
Shoes: Old Navy
Jewelry: Charming Charlie
I work on a rotating schedule right now, so Mr. Man and I went to Mass in the evening because I was working all day. I felt distinctly unpretty by the end of the day, so I made myself feel pretty again with this outfit. (There might have been some singing in the mirror, and it might have been from a famous musical based on Romeo and Juliet.)
We returned to a parish we've visited before due to its terrifically convenient late evening Mass time. It's not exactly known for being old-school. The parish we went to for Pentecost omitted the sequence, but this parish included the Corpus Christi sequence! The lector gave maybe the most awkward reading/recitation of a sequence I've ever heard, but the sequence was in fact done.
Fr. C has a very "live out loud," audience-participatory style to his homilies. He walked to the back of the church and escorted a random trio of people from the back right up to the front of the sanctuary. (I have no fear of this tactic. I was actually whispering "pick me!" as he was warning people not to try to avoid eye contact.) This trio turned out to be a father and his two young adult children, and they played along well, serving the pastor's point that fathers often give their children advice about the future based on what they themselves have experienced. Similarly, Moses spends much of Deuteronomy giving the Israelites as much wisdom as he can before they enter the Promised Land.
The Bible Timeline is where I first learned about Deuteronomy, so I was bursting with excitement to hear Fr. C give such a succinct, easy explanation of that part of salvation history. We tend to think of Moses as being a near-perfect figure, but he did not make it into the Promised Land because of his late-in-life act of disobedience to God. The best he could do was to prepare his spiritual children by telling them how to live blessed lives, remembering who really sustains them through hunger and thirst: God.
In the Gospel, Jesus reveals that the manna from heaven was just beginner bread. His body will be the real bread from heaven. I kind of wanted Fr. C to lean a little heavier on the point of the Real Presence of Jesus in the Eucharist, but I guess no homily can have everything. He managed to connect Father's Day to church very neatly and to encourage us to seek spiritual nourishment in the Eucharist, so maybe that's good enough for one week.
---
For more Mass fashion and commentary, visit Rosie at A Blog for My Mom for My Sunday Best.