These past few weeks and weekends have been challenging, so I'm back to a Sunday Style two-fer.
June 24 (vigil)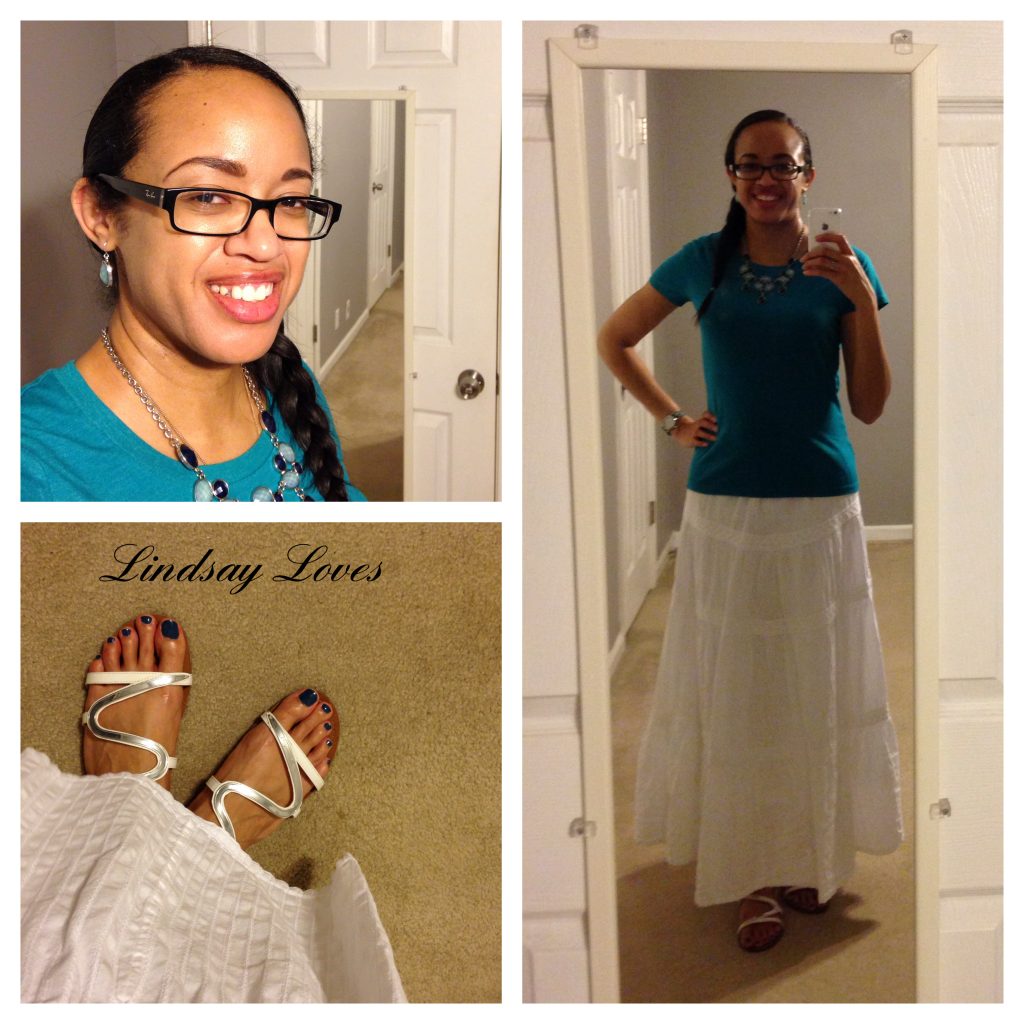 Top: Target
Skirt: Old Navy
Sandals: Target
Jewelry: Charming Charlie
Flipping through my photos as I write this post, I'm realizing that I wore this exact same set of necklace and earrings last week. Oh, well; it looked good both times.
I let Mr. Man pick our parish for this weekend. I needed to attend a late vigil Mass to accommodate my work schedule. (Always remember that you can shop and eat out on weekends because other people work then.) We had two options, but one was in Spanish. He picked the Spanish one!
I've been to Mass in Spanish before, and I understand some Spanish, so I was fine with that. He is still learning, so we met in the middle. I paid attention to the Spanish the same way I would if he hadn't been there, and I found the correct sections in the bilingual missalette to help him supplement what he was hearing. It helped immensely that the Mass was the same format we're used to in English. I knew what the words were in English at a given point, so I knew what Spanish words to look for. It was an adventure.
I wasn't quite confident enough in my Spanish writing skills to take my homily notes in Spanish, though, so I took them in English. In retrospect, taking English notes from spoken Spanish was probably just as difficult as taking Spanish notes from spoken Spanish would have been. Every time I wrote something down, I switched to mentally processing in English, which meant I wasn't paying any attention to what the priest was saying because that was in Spanish. That's why I took notes in Spanish when I took my Spanish classes in college. Code switching is tough!
The priest focused on Jesus' admonition that the disciples not be afraid. "No temas" is that command in Spanish; he said that a lot, which confused Mr. Man. He kept hearing "no te más," which is nonsense. As the priest said, we should fear losing the intimate relationship between God and our souls more than we fear any earthly pain. We should behave like children of God, even as people try to cause us to stumble like the mutterers did to Jeremiah, and instead worry about eternal condemnation.
He also told a brief story. I couldn't decipher whether it was about him and his own father or a random Story Young Man and his father, but the scenario was a father giving advice to a son seeking a wife. He said to look for a woman who fears God, one who will not likely be found in bars and dance clubs. If she fears God, she will be holy and faithful to her husband. That seemed like good advice.
I don't think we'll be going to Mass in Spanish again anytime soon, but it was a fun diversion from our normal.
July 1 (also a vigil)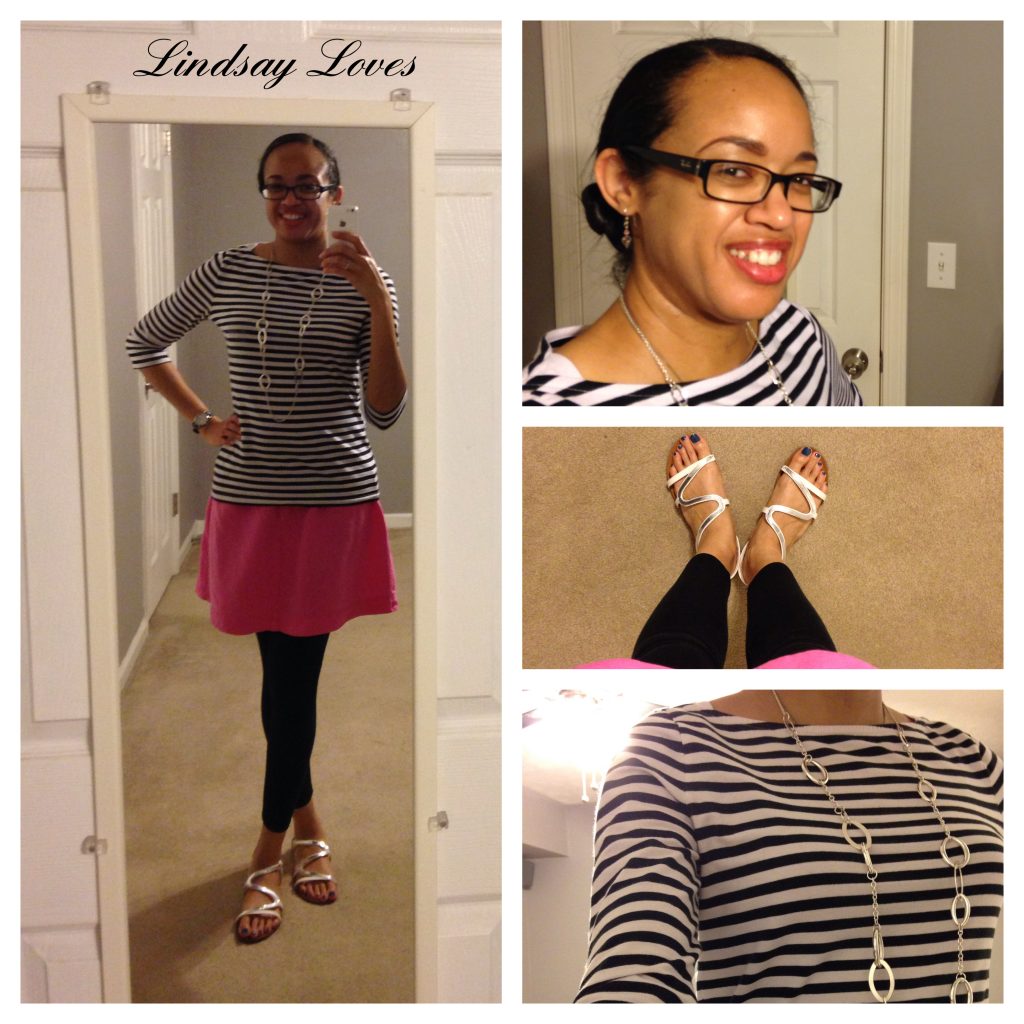 Entire outfit except the earrings: Target
Earrings: craft fair
I used to wear this outfit on Thursdays. I had dance class on Thursday evenings, so all I had to do was change my top to active wear and I was ready for class. It's built around the skirt and leggings, though, so that made it a Mass outfit, too.
My schedule clashed with Mr. Man's, so we went to Mass separately for the first time since I moved to Louisville. I missed him. I attended yet another parish I'd never visited before (the late vigil option in English), which had a visiting priest from the Philippines. Most of his homily was his appeal for a home for aging religious in his diocese, which he connected with Jesus' comment that anyone who gives only a cup of cold water to a disciple will receive great reward. Building the home is like drawing water. It was nice to have a mission appeal connected so well to the day's readings.
He started his homily, though, with a comment on loving family more than Jesus. It stuck out for me because it wasn't connected to his appeal at all (which I appreciated). We're supposed to love God even more than we love our families. Perhaps, he suggested, couples who fall out of love with each other have really fallen out of love with God. Without their love for God at the center of their relationship, it falls apart.
I miss belonging to a parish, but I'm glad to have opportunities like these to stretch my Mass experience a little and explore the greater Church here in Louisville.
---
For more Mass fashion and commentary, visit Rosie at A Blog for My Mom for My Sunday Best.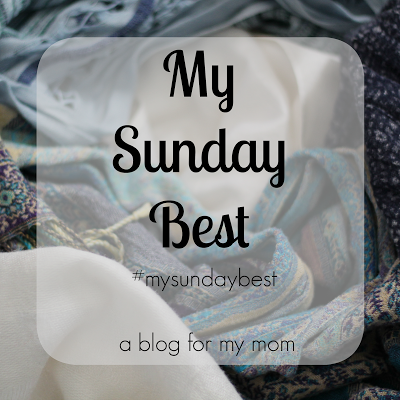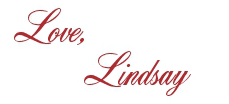 I bet you'll love these posts, too!