I'm committed to posting as much as possible, and also to not just posting about Jesus (although I do that a lot; you see my tagline), so here's a Friday Five!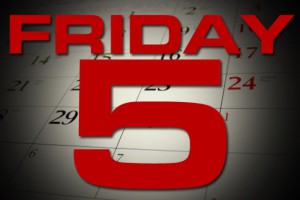 Do [you] have any regrets?Of course! If I didn't regret anything ever, I might be a sociopath.
If yes, then what's your biggest regret? I don't think I have one single regret. There are some positive things I regret, like not going back to church sooner (I can't help the God-talk) and not taking better care of my hair sooner. There are also some negative things, like not being more active about finding a new job last summer and not breaking off things with my high school boyfriend as soon as I knew it was over.
If no, then why not? This is only part of a question.
If you could, would you ever go back and change anything? No. The sum of my decisions have had such a profound influence on who I am that I don't know if I would risk becoming anyone else. It's like the butterfly effect. If I had the opportunity for a do-over, would I really be happier with the new result? It's better that I just continue on living this life with these choices. I am more than my mistakes, but my mistakes have contributed to who I am.
If you could, would you go to the future to see where your decisions have taken you? No. Future time-travel rarely works out well, and it will always be awkward for your fans. ;) That kind of knowledge could change my choices once I returned from the future, so the future would turn out differently, and that would negate the whole process. I'm better off staying in the present and looking on towards eternity.
See more at The Friday Five at LiveJournal.