I made a decision quite some time ago to keep choosing my outfits carefully, taking homily notes, and posting here, regardless of whether I could contribute to a link-up. And then Mr. Man came along, and I know he likes them, so that settles the matter nicely. Here's what I wore to church yesterday.
Blouse: Target
Skirt: Old Navy
Shoes: Old Navy
Earrings: graduation pearls
I thought it might be time to admit defeat and pull out my summer clothes. Then it got rainy (and therefore cooler) yesterday, to the point that I went back into the house for a sweater on my way to work this morning. You'd think I'd be less frustrated by our ridiculous weather swings after six years, but you would be wrong.
This outfit felt spring-ish. I try to go a little fancier when I wear this skirt because it has tuxedo stripes (not visible), but I often just treat it like an ordinary black pencil skirt. I think I hit somewhere in between. It was another double-duty outfit weekend, this time for a meeting in the early afternoon, home to work on migrating to the new YNAB, and then back out for Mass. I took the photos after my first return home, so that is not technically how I looked when I actually made it to church, but that's close enough.
I had excellent experience at Mass, to the extent that I prayed a Glory Be afterwards in thanksgiving for that, specifically. Fr. Associate Pastor began his homily by speaking about the parish's ongoing efforts toward renewal. This is partly due to our still-relatively-new pastor and the influence of books like Rebuilt (which I read, enjoyed, and reviewed for ATX Catholic). Fr. AP said that elders are often resistant to renewal, especially since it is generally brought on by youth. They see novelty as rebellion. My parish has a big population of retirees and older adults, so that probably landed on a lot of relevant ears. Elder resistance today is rather like the insistence on circumcision for Gentiles in the first reading. However, by embracing what seemed wildly new and unfamiliar, the fledgling Church became more accessible to droves of new believers. All the nations (did you catch that in the psalm?) were drawn toward the truth of Christ.
In my pre-reading, I focused mostly on the impact of the Holy Spirit in all the readings. I have a great relationship with him, but I haven't been nurturing it lately. Pentecost is coming, so praying the Original Novena should help with that. I also took it as a reminder to pray for wisdom. I'm entering a big decision-making phase, so I'll need to exercise careful discernment in ways I haven't in a long time.
I also had some adorable kid moments to sprinkle on top of my excellent Mass experience. We use bells during the Eucharistic Prayer. At the first bell-ringing, I heard a little voice say, "I heard a bell!"
"Yes, tiny friend," I thought, "and now everyone heard you."
Fast-forward a minute to next moment with bells, and "I heard it again!" At least we know someone was paying attention.
---
For more Mass fashion and commentary, visit Fine Linen and Purple.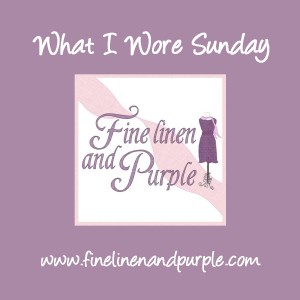 Also swing by A Blog for My Mom for My Sunday Best.