SiteMeter hijacked my site, and I think I might owe you an apology.
I've had trouble here on the blog from mysterious robots before. First was Semalt, which knocked my referrers (sites that are linking to mine) way out of whack several months ago. I fixed that with an adjustment to my htaccess file and moved on. (It's okay if that's Greek to you. It's much more technical than many bloggers will ever get.) The point is that Semalt was making it appear as though their site was sending a ton of visitors to mine. They somehow monetize this technique. I don't get it, and I didn't like it, so I have prevented them from linking to me.
Then came buttons-for-website. I had no idea why that site was referring to mine so heavily, but I made it stop with the same htaccess block. Easy-peasy.
A few weeks ago, I noticed that many of my internal out-clicks (links from posts here at Lindsay Loves to other posts here) were passing through x.vindicosuite.com. Essentially, I was linking to vindicosuite from all over the place: posts, pages, images, everywhere. All the links seemed to be working (i.e. not stopping you from getting to the link target), and it didn't affect my site statistics, so I wasn't too concerned.
After a few days of that, the number of intercepted links increased, and I got concerned and did some research.
You may have been seeing weird ads or pop-ups. I promise you that I did not install those on purpose. I do not accept advertising (with the exception of products for review). I am sorry for any ads you saw on my blog.
Other bloggers reported seeing vindicosuite on their sites along with pop-ups, weird iframe ads, or even full-page ads (like on Forbes.com). I visit my blog enough while logged out that I'm pretty sure that didn't happen here, but just in case it did, I apologize profusely.
A little more research brought me to the answer: The vindicosuite culprit was SiteMeter.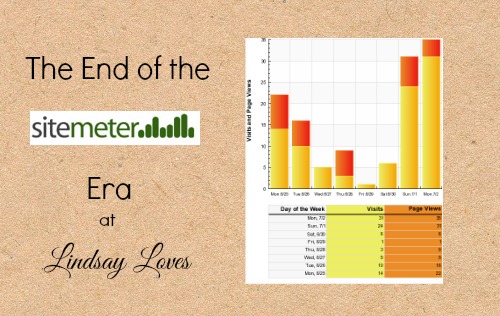 I have been blogging since 2002. That is so long that I remember when Google didn't own Blogger, when blog posts didn't routinely have titles, and when comment systems needed to be separately and intentionally installed.
Let that sink in. That is how long I have been using SiteMeter. But no more! This is the end of the SiteMeter era.
In 2012, I started using WordPress statistics, and I've continued using them since Jetpack was released. I stopped getting my weekly stats email from SiteMeter and generally forgot all about it until I installed new themes. I made sure to put that little code widget in my footer every time. It was cool to have statistics going back over 10 years. That's a lot of history to lose.
I realized that SiteMeter had been bought out when the home page got weird. It had a small auto-playing video of a random musician. What website statistics business would need that? It only bothered me when I logged into SiteMeter, so I didn't give it much thought.
When I did my Google research, I discovered that the tiny SiteMeter code was to blame for vindicosuite's presence. It was re-routing all my internal links through vindicosuite (and maybe other sites that Jetpack Statistics didn't catch; language warning). I removed it from the footer, and vindicosuite disappeared.
The most chilling part was that somehow, my htaccess file was edited. I had to re-add the blocks for Semalt and buttons-for-website. It wasn't just a preventative measure, either; I had a few referrals from buttons-for-website in just one day after uninstalling SiteMeter!
Running a website requires CONSTANT VIGILANCE. I fell asleep on the job, and I've given SiteMeter the axe because of it. Now I'll be back to my regularly scheduled out-clicks.