I have a relatively new interest in the intersection of psychology and spirituality. I have some good friends who are Catholics and counselors, and while I treasure the opportunities I've had to walk alongside people on their spiritual journeys, I've never wanted to pursue that path myself. I don't even have much interest in spiritual direction. But I'm always up for a new book.
One of my roommates is aware of this interest of mine and has been recommending books that might help my casual research. Although I've never been much into Carmelites, I decided to give her latest recommendation a try. The Dark Night of the Soul: A Psychiatrist Explores the Connection Between Darkness and Spiritual Growth, by Gerald G. May, M.D., is perhaps the best resource I've encountered for beginning to understand contemplative prayer and its role in the spiritual life.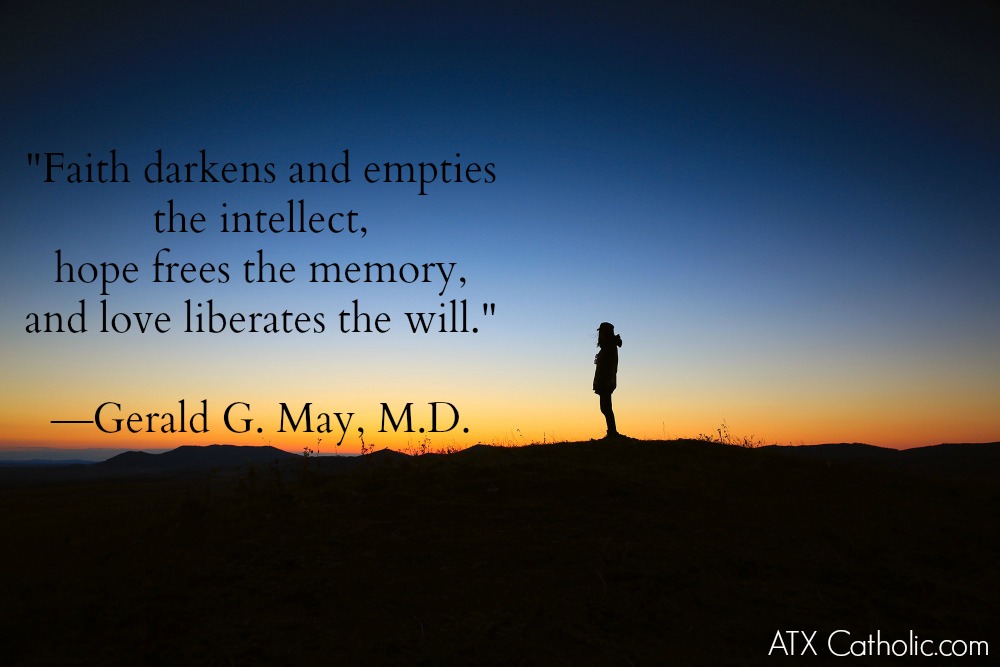 The tricky thing about contemplation is that, if you think you've mastered it, you probably haven't. In that way, it's like trying to explain the Holy Trinity: the closest analogy you can muster up is probably a heresy. I have always struggled with contemplation and contemplative prayer for that very reason. I'm a very action-oriented person, although I am also quite reflective. This is probably why I can never wrap my head around Carmelite spirituality, but Augustinian principles speak straight to my heart. So I went into this book hoping that I might understand contemplative prayer a little more.
I've also struggled with the concept of the "dark night of the soul." Have I been through it? Am I going through it right now? Is it something I should fear, like a punishment? Is it something I should want, like painful physical therapy that is needed to restore health? Should I fear it despite wanting it? Can I even figure out if I'm in it, or if I have been in it, or if it's coming?
It's all very confusing. This book, however, is not.