It takes incredible skill to be a master storyteller. After Unwind and even UnWholly, I would have easily put Neal Shusterman on that list. I read UnSouled, though, so I'm withholding final judgment for now. I'm not as encouraged to keep reading, but I'm glad I did. I have to push through to the end, just like Connor, Risa, and Lev.
Spoilers for Unwind and UnSouled ahead.
The story picks up right after UnWholly. After the destruction of the Graveyard and the dramatic execution of Starkey's stork mutiny, our main characters are scattered once again. Risa has betrayed Proactive Citizenry but made it out alive—and walking. Connor and Lev are on their own, now running from parts pirate Nelson and making their way toward Sonia and toward the whole truth. Starkey and the storks are embarking on a plan to make him a hero no matter what the cost. The politics are heating up in the background, making the unwinding of teenagers seem like a mere prelude to a much bigger scheme. Camus Comprix is finding slow acceptance in the world and discovering who he was really made to be, whether he likes it or not. Before long, their paths once again converge as they head toward the climax of their journeys and the saga.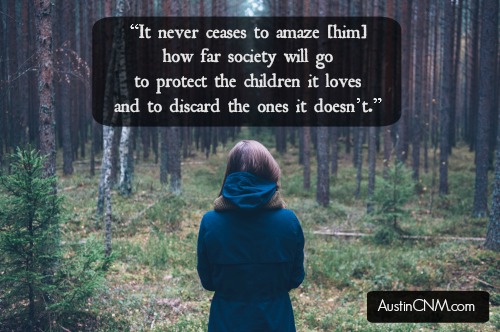 Read the rest (and find out whether I liked it!) at Austin CNM.