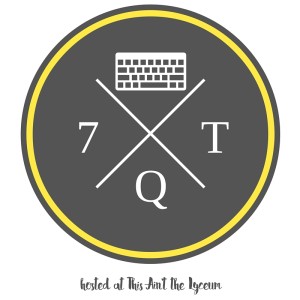 It's been quiet around the blog lately.
I have had an exceptionally difficult August. My first instinct in times of stress is to turn my usual action-oriented personality way up. I just Get Stuff Done. My second instinct is to flip out and keep my head down, to stay docile and quiet. That first instinct got me pretty far. I even managed my post for ATX Catholic. After that, I just tried to make it through my days as quietly as possible.
Things have eased up a little bit now, so I'm ready to try to regain my regular life.
My grandmother disappeared three weeks ago today. She lives near my parents back home in Maryland. My mom talks to her mom every day, so they are in near-constant contact. My grandma left her senior apartment complex to run a midmorning errand on August 4, and that's the last time anyone saw her.
About a week later, Mr. Man alerted me to a local news story about my grandmother's disappearance. I was reluctant to share our crisis at first. I wanted to ask for prayer, but I didn't want to open up my grief. I still don't. But I did, and I am, if only to increase our prayer support.
On August 8, I was suddenly slammed at work. I have been in the same role for two years, but I have never had the volume of work I experienced over the last three weeks. All of my energy went toward maintaining my day-to-day outside of work and managing my at-work workload.
Around August 9, I discovered that I had two simultaneous bacterial infections. (I thought it was just one at first, but I also thought it might be bedbugs. It was two. Neither was bedbugs.) They are clearing with the use of antibiotics, but it added insult to injury (or perhaps injury to injury), particularly because they are in the same area as my recently-diagnosed but as-yet-undisclosed-on-the-blog health condition. At least I already had an appointment with my doctor on August 16, and the diagnosis and treatment weren't difficult. That helped ease the stress a little.
My stress increased, however, when Mr. Man's family experienced their own tough times. It is not mine to share, but trust me, it's a big deal.
In comparison to the rest of the month, this past week was excellent. In comparison to my regular life, it was pretty meh. My workload has returned to normal levels. I'm slowly getting back some of the mental space I lost when everything started happening all at once. I took two dance classes last night instead of my usual one, which made me feel invigorated and also tired.
I want to end on a cheerful note. I did some reading aloud at Spirit & Truth this week. One of our members complimented my lectoring skills. I pointed out that I have no athletic talent, so I consider lectoring my make-up skill. "Ah, so you have ath-lectoring talent," she replied.
---
For more Quick Takes, visit This Ain't the Lyceum.