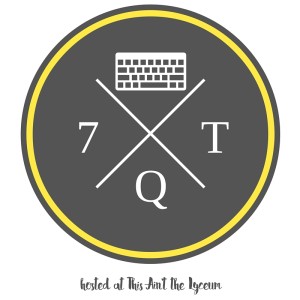 Mr. Man and I met some friends of his for dinner last week at Migo. It was tasty. I always struggle with eating tacos because the filling falls out so easily. It makes me want more tortilla. But I'm not eating the taco because I wanted a tortilla; I'm eating it for the stuff in the middle. It feels silly to have to eat some of the filling off the shell with a fork, but that feels less silly than just making a huge mess while the good stuff falls onto my plate. Maybe that's why I enjoy quesadillas, enchiladas, and pico de gallo more than tacos, tostadas, or salsa: my favorites stay put.
And you thought there was nothing to say about tacos besides "yum."
Against all odds, Mr. Man and I won trivia again last week! Two first place finishes in a row (adding on to the week before) is unreal. The same friends we went to Migo with came to round out our team. It helps a lot that the "name that tune"-style round is one of my specialties, and he fills in a lot of the science things I don't know. We're both humanities nerds, but our nerdery appears to be complementary instead of overlapping, so that's good.
Kyle Benson at the Gottman Institute blog shared a post recently about how to fruitfully respond to criticism in relationships. The institute focuses on married couples, but this advice totally applies to work relationships, too:
Despite what some people say, there is no such thing as constructive criticism. Criticism triggers a person to become defensive and protect themselves from an attack, which blocks the resolution of a conflict.
Yes, yes, yes! Think about it: no one ever asks to receive "constructive criticism." It is almost always the criticizer who asks-but-isn't-really-asking to criticize someone. If Mr. Coworker says, "Can I give you some constructive criticism?" and I say "no," suddenly I'm in the wrong. It shouldn't be that way.
The Gottmans rightly call criticism one of the "four horsemen" of the relationship apocalypse. It destroys people's confidence and makes them respond aggressively and negatively. The asker, in turn, was aggressive and negative. Criticism is never constructive; it's always destructive.
I had the honor of attending a local wedding last weekend as Mr. Man's guest. He doesn't dress up as much as I do for church, but he will for weddings. It was among the smaller weddings I have attended, so there wasn't quite as much dancing as I usually experience. I realized, though, that I have spent so many weddings of friends entirely on the dance floor mainly to assuage my sadness at being so very single for so very long. It's hard to feel like you're alone when you're busting moves surrounded by your friends. It was a very different experience to be there with mostly people I didn't know but also with a date.
I participated in the Asian Efficiency Focus Challenge this week. I'm not sure I was the ideal audience, but I appreciated the experience all the same. The key exercise was evaluating my life for alignment. The process is simple: Make a list of the five things that are most important to you. Then make a list of the top five things you spend your time on. Are those lists the same? If not, what can you do to make them match?
I happen to have known this bishop when he was Vicar General of Austin, but it's solid episcopal advice regardless:
Those who enter into a sacramental marriage make an act of hope that God will provide all the grace necessary to live their vocation.

— Bishop Michael J Sis (@SABishopMike) May 20, 2017
The Pentecost novena starts today! I like to pray the version hosted by EWTN. Your mileage may vary.
---
For more Quick Takes, visit This Ain't the Lyceum.