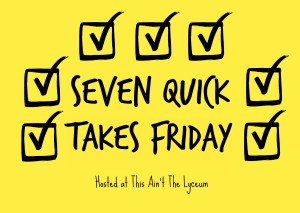 Way back in the day, some of the ladies in campus ministry formed a book club to read Girls Gone Mild (that's mild, not the other one), by Wendy Shalit (issued in paperback as The Good Girl Revolution). It was in that book that I discovered cuddle parties: an explicitly nonsexual group pajama party where participants pay money to cuddle with other people. It was an illustration of the way that all touch has become sexualized and how desperate people are for physical contact.
In the age of Tinder, the situation has not disappeared. It's just moved to a geolocation app. Caitlin Dewey wrote a brief Washington Post blog article about her experience with Cuddlr, "the Tinder for cuddling." So maybe there's no hope for humanity after all.
Have I mentioned lately how much I love Fr. Mike Schmitz? Not only did he tell the story of St. Maria Goretti and Alessandro Serenelli in his homily last Sunday, but he also has this video with the best, briefest description of the C.S. Lewis-style four loves I've ever heard:
For what it's worth, I don't mind "bromance" as a term. It's better than assuming all close male friends are in a romantic relationship with each other! (They might be, but they might not be.) It's a shame that we can't find a linguistic way to overcome our social misguidedness (the instinct that always wants to turn best friendship into romance), but I can see a redemptive value there. We can use the concept of bromance as a scaffold toward understanding philia. We can infuse eros with a much more pure, disinterested love. That's a solid goal, right?
I ran into my friend Gabby at dance class this week. She's the same friend whose Groupon post on Facebook got me to start dancing in the first place. It was her first week on Level 3 of West Coast Swing, so I told her that I found last month complex, but not hard, per se.
Then I had to eat my words. This week was much more complicated than Week 1 of last month! I started the class by having the best dance ever for my warm-up, so I was not expecting to hit a wall like that. I am humbled. I am reviewing the summary video I took (the first video I have ever wanted or needed to take) like it's crime scene footage!
I also went out for a West Coast Swing fundraiser party over the weekend. It was awesome to be in a room full of people who, by definition, came to dance WCS. I got a good balance of asking and being asked, and I got to watch some incredible dancers. I even successfully managed a duck-out move, which I have failed miserably at before. It was a great night.
The ordinary synod on the family has started at the Vatican. The best response is to pray. Here's the prayer Pope Francis suggested at the end of last year's synod:
Jesus, Mary and Joseph,
In you we contemplate
The splendor of true love.
We turn to you with confidence.
Holy Family of Nazareth,
Make our families, also,
Places of communion and cenacles of prayer,
Authentic schools of the Gospel,
And little domestic Churches.
Holy Family of Nazareth
May our families never more experience
Violence, isolation, and division:
May anyone who was wounded or scandalized
Rapidly experience consolation and healing.
Holy Family of Nazareth,
May the upcoming Synod of Bishops
Reawaken in all an awareness
Of the sacred character and inviolability of the family,
Its beauty in the project of God.
Jesus, Mary and Joseph,
Hear and answer our prayer. Amen.
I went to the annual liturgical minister renewal day at my parish on Saturday. I was so proud of myself for being on time, and then…
Made the effort to get to church on time for training on Saturday morning. Doesn't actually start until 9:30. 😒😕

— Lindsay Wilcox (@lndsyloves) October 3, 2015
I had enough time to sit down and tweet while I waited. I could have mingled, but I found a fairly quiet spot and read the book I'd remembered to bring. Then…
The whole group got an apology for the delay at church this morning. I really appreciated that. #grateful

— Lindsay Wilcox (@lndsyloves) October 3, 2015
So then I felt better. I don't mind going to this thing once a year, but I do wish they would just do regular Morning Prayer instead of an adaptation.
On the bright side, when I got home, caught up with entering my receipts, and closed out last month's budget, I had this surprise waiting for me in my YNAB reports:
I HAVE A POSITIVE NET WORTH! From -$7k to barely positive in 15 months thanks to @ynab! 🎉🎉🎉

— Lindsay Wilcox (@lndsyloves) October 3, 2015
If you remember my YNAB love story, I had a negative net worth (not including my now paid-off car). By following the Four Rules, I have managed to chip away at my debt, get control of my cash flow, and live by my priorities. This is seriously good stuff.
---
For more Quick Takes, visit This Ain't the Lyceum.