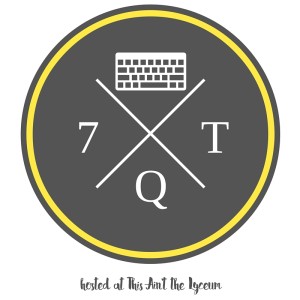 Yesterday, I went to the first evening of the Jane Austen Festival here in Louisville. (I have to fight the urge to spell it "Austin" because I lived in that city for so long!) I am not a huge Jane Austen fan, and she has no particular ties to Louisville, but some friends highly encouraged me to check it out, so I did. It was smaller than other festivals I've attended; I was spoiled by the massive Maryland Renaissance Festival, which is the second-largest in the country. The hat game was strong.
The main reason I attended was to see a staged reading of the latest adaptation of Persuasion. The playwright performed as Anne Elliot; she and several of the other actors sang original songs; and all the actors were delightful despite completely lacking costumes, props, and sets. They were losing the light very quickly as the play headed towards the end, but they persisted. I enjoyed it immensely.
I only knew a little about the story, but I found it pretty easy to follow. I did wonder why the main "villain" was supposed to be such a scoundrel. According to my companions, that storyline was cut for the adaptation. I guess that's the risk of adapting a story to a different form: you have to decide what to leave out without affecting the story too much. That part probably should have stayed in.
Duolingo has been making some big changes in its language teaching pedagogy. The biggest one, for me, was adding a ton of new lower-level content to the Spanish course. I went from having covered everything except the last dozen skills to getting almost 60 new skills below the point I'd reached. So I went from reviewing future-tense conjugations (everything is review for me because I have a minor in Spanish) to things like "ballpoint pen" and "I have a blue shirt."
The bright spot is that all of the new, low-level skills come with a way to test out quickly. I've been easily finishing a skill a day for the last several days. I'm not a fan of the new developments (especially Crowns), but I do like testing out of so many things.
I also still like Duolingo because of the crazy sentences, such as the ones in the video I shared a few weeks ago. One random sentence in Spanish is "el oso no cabe por la puerta," which means, "the bear doesn't fit through the door." Whenever I get a weird sentence, I head to the discussion forums to see everyone else's reactions.
When would I possibly need to say that the bear doesn't fit through the door? My favorite was the scenario in which that sentence is followed by, "No, wait, the bear does fit through the door! Run!"
My second favorite was this gem of an illustration:
I worked as a teacher before I moved to Austin, and I've been working as a teacher since I left Austin. In the middle, I barely even thought about the mechanics of teaching. When I got back into it last summer, I wanted to go back to the style of lesson and unit planning I'd learned in grad school, but there was a catch. All my templates were Excel files, and after those interim years, I didn't have access to Excel anymore. My solution was to semi-successfully convert the file to LibreOffice's spreadsheet file format and go from there.
That worked well since I used my personal laptop at school. I never wanted to have to bring my own computer to work, though, and I don't have to anymore. My new school issued me a sweet Chromebook about five minutes after I showed up for my first faculty meeting. (The place is on point.)
This past week, I spent several distraught hours trying to figure out how to get my course plans from Excel or even LibreOffice into Google Sheets. There are a lot of really useful sheet-to-sheet links I didn't want to give up. I patched together a plan that I thought might work… and it finally dawned on me: I can't be the first person with this problem; I should just Google it. Lo and behold, sometime since I graduated, the files were made available in Google Sheets format. Crisis averted.
I checked out The Power and the Glory from the library since I almost never buy books anymore. (Then again, I did go on a mini-spree in the spring, but that was a fluke.) It was compelling, and I was excited to finish it when this happened (possible spoilers):
I was very worried until I flipped through the duplicate pages and found that the story continued on just fine after the second instance of page 164:
The last time I remember something that crazy happening in a book was when a bunch of copies of Harry Potter and the Order of the Phoenix were missing the last fifty pages. I think I also remember some copies of Deathly Hallows repeating pages just like that copy of The Power and the Glory, but I can't find anything online about that right now.
For me personally, there was a big bug smashed into my copy of Half-Blood Prince. I was so into the book that I just scraped it out with a tissue really quickly so I could keep reading!
Since this misprint didn't involve any missing pages or non-missing bugs, I guess I lucked out.
This week, I found a bunch of iBooks on my phone that I'd forgotten I own. This is not as exciting as getting new books, though, since they only live on my phone. #21stcenturyproblems
I read a lot about managing relationships of all kinds. I was particularly struck by an article about how to ask questions to figure out someone's perspective. It's so easy to assume that someone is being intentionally rude or is totally satisfied with a situation. It's much more awkward to ask, but in my book, that beats assuming the wrong thing.
---
For more Quick Takes, visit This Ain't the Lyceum.