I didn't even plan on publishing this before 2016 was over. I was too busy vacationing with Mr. Man for that. I did, however, plan to post this before the end of January. Trying to follow that plan turned into a lesson about priorities!
So yes, I'm reaching back really far at this point. One of the benefits of focusing so much on personal productivity is that I keep detailed records in order to back up my terrible, terrible memory. Those help me with my GTD Weekly Review, and they also help me publish Currently each month.
I made my first pass through my year in an attempt to order and send Christmas cards "on time." I don't have a family to take a photo of, and I like to celebrate as much of the Christmas season as possible, so I started sending Epiphany cards a few years ago. You can get a good discount for ordering later in the card-sending season, and they seem more like New Year cards for my secular friends.
This year, I decided to forgo the "Christmas letter" style and go for bullet points. If you didn't get your card, here it is!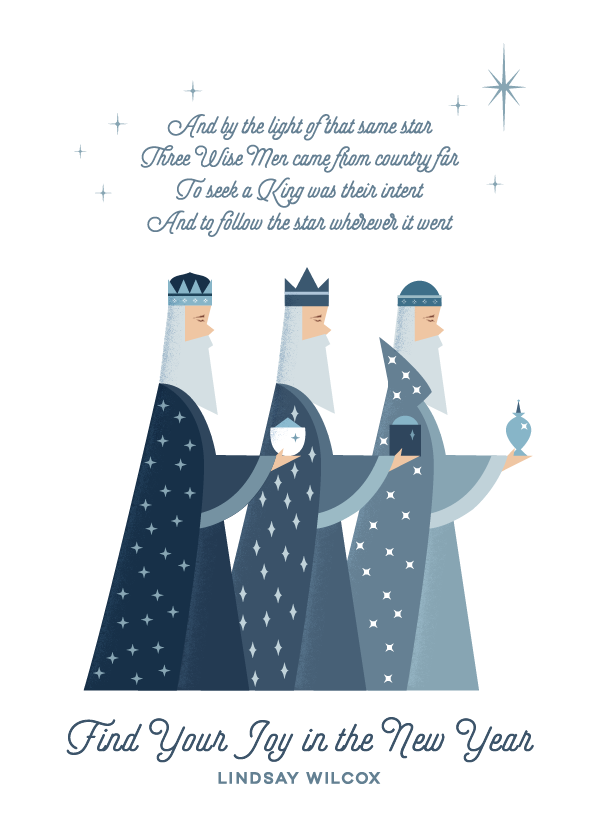 I had the back printed with just text (and space for signing!), so here's that part:
2016 By the Numbers

Weeks of Bible study: 22
Appliances repaired or replaced: 3
Cities visited: 2 (Chicago and Houston)
Months I have been dating my boyfriend, Mr. Man: 14
Times I auditioned for Jeopardy!: 1
Hours on retreat: 9.5
Funerals attended: 2
West Coast Swing classes: 40
West Coast Swing workshops: 2
Books read: 22
Student loans paid off: 2
Blog posts published: over 130

I was also diagnosed with morphea (MOR-fee-uh) this year. It is a rare and incurable autoimmune skin condition, but I'll be fine. Follow me at LindsayLoves.com, and share what's new with you! Make 2017 a great year!
I always sign and address them by hand. It breaks my heart a little when I get a card that doesn't bear any personal signs of the sender: sender and recipient addresses on plain white labels, pre-printed cards, no signatures. Yes, customizing them takes time, but that time is part of the gift.
Here are my "most posts" of 2016, in the style of Sarah Mackenzie of Read Aloud Revival:
Post with the most clicks: My most popular post published last year was a review of a video about discernment by Fr. Mike Schmitz and an article about discernment by Peter Kreeft. Believe it or not, the popularity was actually due to Twitter. I tweet a link to new blog posts automatically, and for that one, I used Fr. Mike's handle to tag him. He retweeted it, and my poor little blog never knew what hit it!

Post with the most comments: I try to reply to every comment I receive, so the count is undoubtedly inflated, but my essay post about making friends as an adult got the most posts of any last year.

Post with the best picture: I really enjoyed my illustrations last year. So many online Jeopardy! screencaps. So many tweets. Several photos with Mr. Man. A couple of household organization wins. I really like the "demons are spiritual, too" meme from one of my 7QT posts, though, so that wins for 2016.

Post that was hardest to write: I sat on my morphea awareness post for a long time. I spent a long time hiding the visible signs. I struggled with how much I wanted to share here on the blog, and when, and what exactly to say. Finally, I just decided to do what I've always done here—share my heart. The compassionate responses I've received have brought me so much joy.

Post that was your personal favorite: I was very happy to introduce everyone to Mr. Man. We dated for so long before we met in person! Facebook technically still does not know we're dating (I prefer it that way), but I'm sure that mysterious algorithm noticed the surge of traffic to my blog when I shared my post there. I'm very grateful that he's in my life and that he allows me to talk about him here.
Finally, my recurring themes of 2016 were:
West Coast Swing: A returning character from last year. I continued the passive weight loss I'd started by getting any exercise at all (as opposed to my previous zero). I made it through enough of the Level 3 syllabus to start repeating months, so I got to experience learning from a new angle. I took a workshop with Jordan & Tatiana. I didn't participate in the annual West Coast Swing flash mob, but there's always 2017!

Endings: My grandmother died. Spirit & Truth disbanded. The Not Alone Series faded away. I went to the summer shows at Zilker for the last time, missing the literal ending of Macbeth due to a storm. I stopped hiding the morphea patches on my legs.

Marriage: Of course. Also a returning character. It has been an enlightening experience to put more of my dating preparation, so to speak, to practical use. I attended a retreat that was focused on relationships (not just marriage), and it was excellent. I have also had an adventure navigating a long-distance relationship. I always knew that a God-centered romantic relationship would take work. I am very grateful to be working with such a wonderful partner.
What were your recurring characters of 2016? How has 2017 been going? What are your goals for the rest of the year? Every day is a good day to resolve to change your life—and then do it!